The Journey Begins
Starting out, the first thing that needed to happen was to find a reliable printer to print these board books exactly like they were originally printed. Fortunately, I have a friend who's a retired publisher and he introduced me to the folks at Oceanic Graphic Printing. Oceanic prints all of their board books in China, so the first thing I wanted to make sure of is that we got documentation from the printer that the books will contain only non-toxic inks and coating that meet
U.S. ASTM safety standards
. Toddlers chew on these board books!
They must be perfectly safe!
Oceanic is sending us the full safety documentation. Also, we are receiving a blank board book from the factory, which I am going to have tested. I will post more on that and the results as we move along.
Book Production Begins
The entire book had to be put back together from scratch, since I no longer had the original layouts. Since I did have the original drawings, I scanned them all in and have now finished laying out all the pages. I have exactly matched the original pages of the book - which is actually a lot harder to do than I thought!
These books must be safe!
As I wrote about in the first post here, I needed to make sure that the books will be safe for toddlers to chew on, especially since they are being printed in China and many parents are rightly concerned about children's products from China at this time. I have received the toxicity reports from the printer and you can view them here. If you have any concerns about these reports, please leave me a note using the
contact page
.
After looking these over myself, I am very impressed (not by the quality of the scans, mind you). I'm convinced we will have a safe product for toddlers to chew on if they need to.
The reports
(all files require Adobe Acrobat Reader PDF)
The Ink and CMYK report
The Lamination report
The Machine Varnishing Report
The Final Varnish Report
Design is finished! Off to press!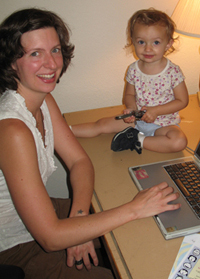 The
Ba Ba Ha Ha
design phase is complete! The book itself was put together by
Mary Long
. She was quite patient with me as I fiddled endlessly with the colors to get them to match the original book. We also had quite a time tracking down the original font that was used. This business of tracking down an exact match for a font was a lot harder than I ever imagined! But, Mary and I eventually found it!
This afternoon, I put the entire package into FedEx and it is now officially off to the Oceanic Graphic Printing US office in Hackensack, New Jersey. This is pretty exciting (and terrifying) stuff!
I think Iva helped her mom a lot with this! Thanks Iva! You're the best!
Proofs Arrive!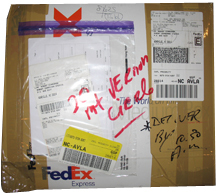 Before a book printer will go ahead and print books for someone, they send you a proof. The Ba Ba Ha Ha proof arrived today from China. They packaged this thing so that nobody (not even me) could open it. But, I finally managed. I anxiously used scissors and an Exacto blade on numerous layers of cardboard and tape before FINALLY getting in to reveal the marvelous contents.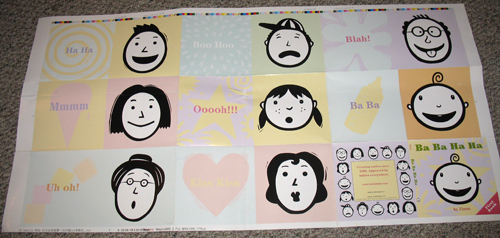 The entire book is printed out on one big sheet. This is how it will go through the press before being cut up and applied to the individual pages of the board book. Looks great! Woo Hoo!
My Daughter's Room is the Warehouse!
Way back in 1990 when I made the original drawings for Ba Ba Ha Ha, my daughter Lila, age 9 months, was the test subject for all of the art. I did dozens of drawings and showed each one to her. The ones that she liked I set aside, the ones she ignored, I put away.

At the time of this writing Lila is 19 years old and lives in Brooklyn, New York. Her proud pop is pleased to report that she attends Pratt Institute there and is a student in the writing department at that fine university. At this writing, Lila is on summer break and working two jobs, one of them involves selling cannolis on Mullberry Street in Little Italy. If you see a young lady with a cannoli cart on Mulberry Street, I hope you'll introduce yourself and perhaps buy a fine Cannoli from Snacky's.

She's left an empty room here at the house. When Lila moved up to New York I thought I might convert it into a guest room, but then this crazy idea of self publishing a board book got stuck in my head and Lila's room took on a different purpose. Some of her stuffed animals from her childhood are now the night watchmen for the Ba Ba Ha Ha shipping department and warehouse.