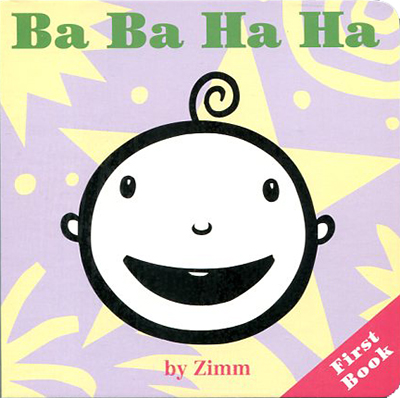 Send in your own story
here
January 14, 2009


by Molly Hunt

from Charlotte, NC




We just received a copy of "Ba Ba Ha Ha" and my little boy, Cooper loves it! We start each day by reading it.
Everytime we turn a page he looks at the face, we say the word and then he starts to laugh!
It is simple AND extraordinary! I hope you will write more.
---
November 19, 2008
by someone who wishes to remain anonymous


from West Springfield, MA




This was my first book! I am 11 years old and my mom read this to me nearly every night. I read it to my 6 month old brother now. I will buy him his OWN book now.
Thank You Zimm

---
November 18, 2008


by Steven Landau

from Seattle, WA




We were introduced to your book only a couple months ago by our son's speech therapist. Our son in 2 years old and has Down Syndrome. The speech therapist LOVES your book and has used it for many years. Our son enjoys it immensely. His favorite page is BLAH.

Anyhow, I sought out your book in the "aftermarket" and found a used copy. Unbeknownst to me, my wife had done the same so we now had two copies. Well, we kept one, and we passed the other along to my brother who just had his second child, and we made the extra copy a gift to him.

To wrap up my story, we plan to gift a couple new copies to our son's speech therapist so she can continue using it (she was sad that it was put of print -- won't she be surprised!), and perhaps share it herself. We'll probably keep one for a "spare" for ourselves and plan to give the others as a gift.

Thanks for making this delightful book, and I am happy for you that you were able to achieve the quality re-print that you were working for.

---
May 30, 2008


by Cheri Runninger

from Norton, OH




Yeah!! I am so thrilled that you are bringing this book back!! I bought it sometime around the birth of my first son (December 1996), but can't remember exactly. I had a 2 year-old at the time and she loved the book too! The book was used almost daily.

When my twin sons were born (Feb 1999), the book was in 2-3 pieces and in desperate need of repair, so I scotch taped it together. Like that's going to hold! Then when our 5th and final child was born (a son - October 2002) I knew that he couldn't miss out on this fabulous book, so I researched and found the author in the hopes that he would know where I could purchase a new one. When he told me the sad story of no one wanting to publish his book again, I was in shock. So, I then resorted to packing tape to put the book back together. I still have it! I won't give it up unless I get a new one to replace it.

I wish I had the other book to go along with it. I have never read the other book or even seen it in a store. (If that one goes to publishing again, I'll be sure to get it too!) It's amazing how fast those books sold out and even more amazing that no one wanted to publish them again. I actually would pay more that Mr. Zimmerman is planning to charge to have a new copy of this book again, but at this great price, I will now be able to purchase more!

I belong to a Mothers of Twins Club and will definitely be promoting it there and informing anyone else I know with babies that this book exists. All of my children loved this book. They all could make the faces and sounds and it was so much fun to read it to them. My favorite page was the "Kiss Kiss" page because they would give me a kiss. Their favorite page was the "Blah!" page! I will always remember those moments and I'm thrilled that other parents will now get the chance to share this book with their children.

Thank you Mr. Zimmerman! I'm so looking forward to getting a new copy... several!
---