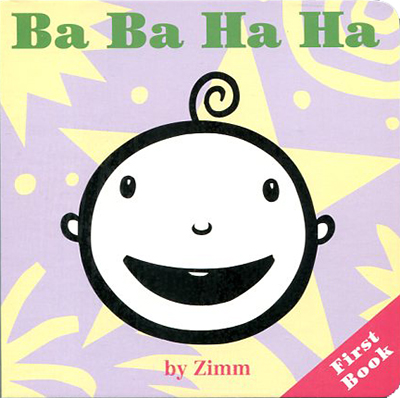 Send in your own story
here
August 26, 2014


by Tamara Woods

from Laguna Beach, CA





The picture speaks for itself! My baby can't get enough of this book! It's the only book that I carry around all day, everyday because it's the only book that she truly loves. I bought this book in bulk from you and have given it at every baby shower and have spread the word. I'm almost out and will need to reorder soon! Thank you for printing these so little ones around the world will smile!
---
January 15, 2013


by Peggy Beaulieu

from Brunswick, ME




Hello, I am a speech therapist who loves this book. I first used this book when treating children with autism who focused and verbalized first with this book and became totally entranced with it. My original copy is well loved. I sought out more and bought 3 more on aftermarket a few years ago.(at reasonable prices) Today I loaned out the last of those 3 copies as 'homework" for a non-verbal 2 year old who was vocalizing and doing the "blah". so on a whim decide to look for more copies and am delighted to find this book being published. I ordered 5 and will be ordering many more now that I can find them. I now can give them out and not try to get them back.
Thank-You Very Much. This book is perfect in so many ways! Peggy Beaulieu SLP
---
November 16, 2011


by Laura Krakowiak

from Franklin, TN




I just ordered two books - one for my niece who is due in December, and one to have for the future. Of course I still own our original - this book was my daughter's first favorite book. It was amazing how quickly she picked up on the emotions of the faces and started acting them out herself. We had so much fun with this little book. Ba Ba Ha Ha engages the youngest babies with its single emotions expressed in clearly understandable images. Basically, if babies are old enough to focus on the book, they are interested in it! Over the past ten years I have been watching to see if the book would be reissued, so I am SOOOOO glad you decided to make it available again. There is nothing else like it. Bravo!
---
September 29, 2011


by Katie Hansen

from Marysville, WA




We are a group of moms of babies ages 3 to 6 months. A few weeks ago our topic was early literacy and reading with your babies from an early age to promote a love for reading in your children. Our group leader Christine shared with us that her favorite book she always read to her daughter was Ba Ba Ha Ha. Sadly she told us she used to buy it for all her friends when they had babies but that it had gone out of print. She has been so wondeful to us that I decided to research and see if I could find the book anywhere and I found this sight. We ordered books for all the babies in our group and Christine. We call it our baby book club!
---
April 11, 2011
by someone who wishes to remain anonymous


from Newport Beach, CA




I believe in Ba Ba Ha Ha!

I have 5 children ranging in ages from 15 years old to 7 months. I received your book as a gift for my first baby in 1996. She loved it (of course) and I thought it was pure genius. I assumed that it would grow to be a series and dreamed of parts 2, 3, 4, and 5 with different faces. I bought a bunch at the time and gave them as gifts. They were always a hit and every person I gave it to, said it was the only book that made sense to read to those newbies bc they actually enjoyed the book and reacted to it;most other books were just fluff for babies. Crying baby in a long car ride? Big sister throws that book in front of her and the crying stops. My pre-schooler is proud he can read the words to the baby all by himself. Everybody is happy. I can honestly say, this is ONLY board book I have kept for all my children. My original is beaten and torn which is why I went online to buy another never guessing it was out of print. Thank you for going out on a limb and self publishing it! I just bought 15. I will always include them in my gifts for new babies and then those people will give them as gifts and blam-o! You're back in business, brother!

I love your "nutty" idea. I'm going to show it to whoever will look at it including some shops around here. The babies of the world need you.
---
February 23, 2011


by Peggy Reed




I saw your book at an early literacy meeting that Tom Carroll of Springfield, Missouri, was attending. He was very enthusiastic about it so I bought two copies to share with my grandchildren.

The attached photo shows my granddaughter, who at 8 months already says most of the words in the book and was willing to copy me when I said the others!
---