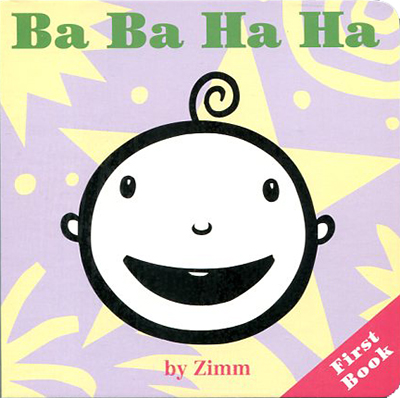 The Story of Ba Ba Ha Ha...

Back in 1996, Harper Collins published two little board books by me. They were titled Ba Ba Ha Ha and Oooh Oooh Moo. Around 20,000 of each book were printed and sold. Harper Collins pulled the plug after the first print run, telling me that board boards are too expensive to print, or there wasn't enough profit to made on them, or something like that.

I got lots of mail from people - lots and lots of mail. This was back when most mail had postage stamps on it. People were upset! Twelve years after Harper pulled the plug on these little books, I was still getting mail, at this point most of it email.

One day a woman called me on the phone from Texas. It was an overcast afternoon, January 2008. She called, completely out of the blue, just to thank me for the books. That settled it. I knew I had to bring a book back into print.

For years the books were available only through Amazon and such places as that. I saw them selling for over $100, "slightly chewed". Here's a link to such craziness, along with some heart-warming reviews that many kind people left over the years.

I went WAY out on a limb and published these books myself.

As of today, I have sold 1,390 of these little books online and while that might not seem like a very big number, it's 1,390 books that have been in front of toddlers that otherwise wouldn't have been! So, I'm very pleased about that.

For information on self publishing this little book, including the design process, making sure the books were safe for chewing on, and how it all started, all of that is documented here in the blog.

If you have a story to share about Ba Ba Ha Ha, I would love to hear it and even share it with others here at the website. Got a story about the book? Send it to me!

If you want to find out a bit more about me, some of that stuff is on my personal site at zimm.net.